Looking for a home that's versatile enough to meet the needs of ambitious students, yet sophisticated enough to provide the intimacy and solace desired by astute professionals? Welcome to Hideaway True Blue. This six-storied contemporary building offers 43 turnkey condos – each with private balconies revealing scenic views of St. George's University, the turquoise blues of True Blue Bay, and the lush, tropical vegetation of Grenada's verdant hills. Opened in 2019, this government approved project included in Grenada's Citizenship by Investment Programme offers investors the opportunity to own either a studio, a one-bedroom, or two-bedroom condo. Onsite is a a fitness centre, conference facility, study lounge, rooftop bar and lounge, and property management. Located at the entrance to St. George's University, Hideaway True Blue is a popular residential choice for university students.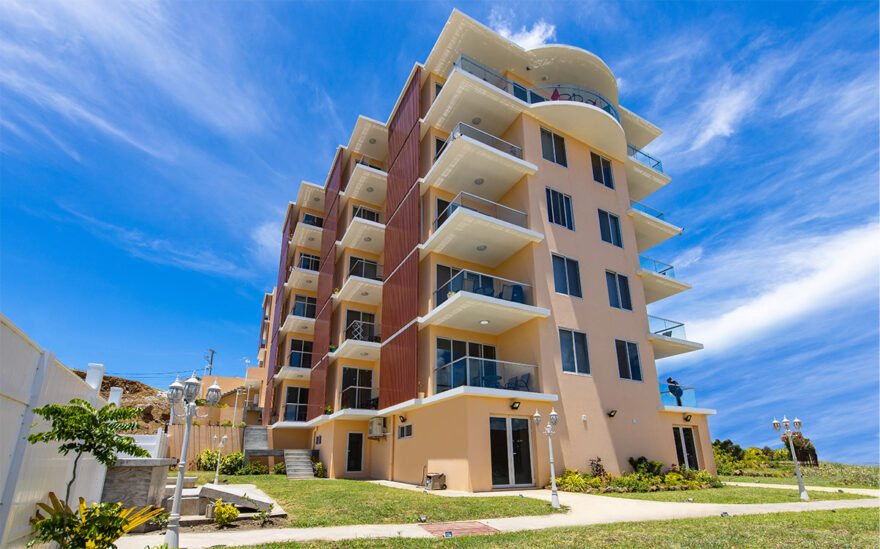 THE OFFER
Freehold/titled Studio, one-bedroom, & two-bedroom Condos

Pricing from

$220,000

plus closing cost

Guaranteed yearly return of 3% (payable upfront for the five year period)

One week residence allowance per year

Hassle-free property management

Guaranteed buyback after five years of ownership

Lifetime citizenship that's inheritable
PROPERTY AMENITIES
At Hideaway True Blue, effort is placed on creating a social community that supports academic and professional excellence through holistic wellbeing. Where possible, technology is used to reduce everyday hassles, while an array of amenities and on-site services are provided to ensure residents experience a relaxed comfort.
Conference Room
Fitness Centre
Rooftop Bar & Lounge
Study Lounge
Barber Shop
Recording Studio
Mediterranean Restaurant
Storage Units
Elevator
24-hr Security
Onsite Property Management
Parking
Interested in taking advantage of this attractive investment opportunity? Contact Us.