INTERCONTINENTAL GRENADA RESORT
Range Developments introduces its second real estate project approved for citizenship investment in Grenada – the InterContinental Grenada Resort. This intended five-star, luxury resort, joins Range Development's Six Senses La Sagesse Resort on Grenada's serene and internationally celebrated La Sagesse Beach. Set to open in 2025, the InterContinental Grenada Resort will feature 150-rooms, including 30 private suites, top-of-the-line spas, a lagoon pool and other luxury amenities.
Positioned to be a leader in the meetings, incentives, conferences, and exhibitions sector of the regional travel and tourism industry, the resort will feature 6,000 square feet of meeting space, including a business centre. It is expected to attract Fortune 500 companies to Grenada's shores. Once it opens, it will join IHG® Hotels & Resorts' portfolio of over 6,000 hotels in over 100 countries.
Shares in the InterContinental Grenada Resort are now available for purchase through an investment in Grenada citizenship. My Grenada Solutions can help you become an owner of the InterContinental Grenada Resort and a Grenadian citizen in four months' time.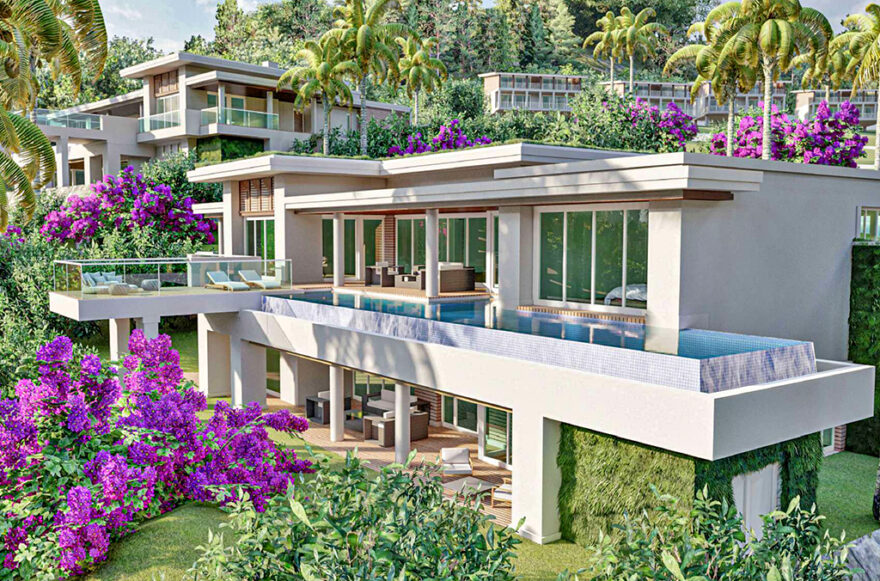 THE OFFER
Price: 

$220,000

|

Closing cost: 

$8,800)

Seven (7) nights annually at any Range Developments Caribbean property, including Park Hyatt St. Kitts, and Cabrits Resort & Spa Kempinski, Dominica (while the InterContinental Grenada Resort is under construction)

Seven (7) nights annually at the completed InterContinental Grenada Resort

Performance-based annual returns

Ability to sell the share af

ter 5 years and recover some of the investment

Lifetime citizenship that's inheritable
THE DEVELOPER: RANGE DEVELOPMENTS
Range Developments remains the ONLY developer internationally to have successfully developed and delivered two Caribbean resorts financed through Citizenship by Investment (CBI) Programmes in Caribbean islands. In 2017, Range Developments delivered the Park Hyatt – an ultra luxury, 5-star resort in St. Kitts & Nevis through through the country's CBI programme. The property, which is ranked as a top tier Category 7 Hyatt property, has since won several international awards, including: TripAdvisor Travelers' Choice Award 2020, and Condé Nast Readers' Choice Award 2018, 2019.
In 2019 Range Developments added to its Caribbean accolades by delivering Cabrits Resort & Spa Kempinski. The 5-star property was developed through Dominica's CBI programme and has been awarded the Caribbean's Best New MICE Hotel 2020 and Caribbean Travel Awards' New Hotel of the year 2020. It is currently completing its third Caribbean resort funded through a Citizenship by Investment programme – the Six Senses La Sagesse Resort in Grenada, which is expected to open in 2023.
The delivery and subsequent operations of both the Park Hyatt and Cabrits Resort & Spa Kempinski have not only yielded returns for its investors and allowed for the successful resale of shares after the mandatory holding period, they have also earned for Range Developments a reputation of being reliable and accountable.
InterContinental Grenada Resort – Flythrough
THE BRAND: IHG HOTELS & RESORTS


IHG hotels & Resorts is the world's second largest brand. Its portfolio includes a diversity of brands separated into a luxury & lifestyle collection, a premium collection, an essentials collection and a suites collection. Travellers can have their pick from budget friendly resorts to exquisite five-star resorts characterised by luxury and excellent service.
Integral to IHG Hotels & Resorts brand is its IHG One Rewards loyalty programme. The loyalty programme allows members to earn points on stays, which can be redeemed for other hotel nights, or even transferred to airlines. Benefits include:
Points redeemable on room stays (including bonus points depending on status
Access to member rates & offers
No Blackout dates
Free Wi-Fi during stays
Late checkouts
Interested in taking advantage of this attractive investment opportunity? Contact Us.
RELEVANT POSTS
November 6, 2023
Kawana Bay Resort may resume actively selling investment units as part of Grenada's Citizenship by Investment (CBI) Pr ...